Congratulation to Year 13 student Bridget Donaldson, who has been chosen as the Dacre Brooch winner for 2014, in her role as a Morpeth Air Cadet.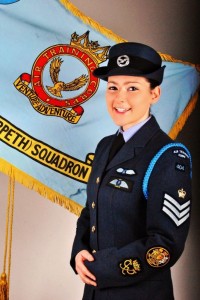 The Dacre Brooch is the highest award any female Air Cadet can achieve. In 1979, Mrs Elizabeth Dacre MBE TD JP presented to the Air Training Corps the dress sword of her late husband, Air Commodore G B Dacre CBE DSO DL RAF to be presented to the "ATC Cadet of the Year." 
With the advent of girls in 1982, Mrs Dacre presented the Corps with a diamond brooch mounted on a sash, for presentation to the best female cadet. The very first winner of the Dacre Brooch was CWO Fiona Brown also from 404 Morpeth Sqn. Since 1983, the Dacre Sword and the Dacre Brooch have been awarded annually, with selection being based on the all-round performance of the cadets nominated firstly by their Sqns, Wing Headquarters, and, then by their Regional Commandants. 
Bridget is also a staff member of 645 VGS where she instructs cadets on their Gliding Induction courses. The award will be presented to Bridget by Air Commodore Dawn McCafferty RAFR when she visits the Sqn in the coming months.