A Northumberland school welcomed hundreds of students and parents from across the county to its biggest and best careers event yet on 22 November.
King Edward's Inspires, which is now in its fifth year, is an annual careers fair held by The King Edward VI School, part of The Three Rivers Learning Trust. And this year's event featured stands from more employers than ever before, including accountancy firms PWC and Graeme Tennick & Co, law firm Muckle LLP, the NHS, Northumbria Police, Northumberland Fire & Rescue Service, Northumbrian Water, civil engineering firm ARUP, HR specialists Avec, Faulkner Browns Architects, design and brand agency JUMP, and more.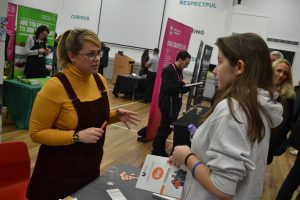 In addition, students and their parents and guardians could chat to representatives from colleges and universities from across the country, including The Northern School of Art, Edinburgh Napier, Leeds Beckett, Edge Hill, the London School of Economics, Trinity College Cambridge, and the Universities of Stirling, Newcastle, Cumbria, Sheffield, Dundee, Sunderland, Huddersfield, and Teesside among others.
There was also a full programme of advisory presentations on offer, covering topics including apprenticeships, personal branding, student life and finances, and careers in areas as diverse as nursing, engineering, medicine, film, sport, law and environmental science.
As well as King Edward's own students, a coach descended on the Morpeth school from Berwick Academy and families from The Duke's Secondary School were welcomed.
Sarah Flanagan, Head of Post-16 Education at Berwick Academy said of the event: "It's been really valuable for us as a rural and isolated school to get access to this range of employers and higher education institutions. We simply couldn't do this alone, so our ongoing partnership with The King Edward VI School has really been of benefit to my students over a number of years, and this year has been bigger and better than ever before."
Mark Fox, Careers and Employability Manager at The Duke's Secondary School in Ashington added: "I think it's been a really amazing evening, because there's something for everyone, so no one has gone home empty handed."
Year 12 student at The King Edward VI School Shannon Brown said: "Tonight has been really good for me because I didn't really feel I had a clue what I was doing but now I have a plan, and lots of information to go through."
Exhibitor Graeme Tennick has already got work experience candidates lined up until July 2019 following the event. He added: "It's a fantastic event that helps the students to fully get a feel for what businesses are like and what they are looking for, and the various routes forward. We're looking forward to taking part again next year."
Leanne Johnston is Assistant Headteacher at The King Edward VI School. She also organises King Edward's Inspires. She said: "King Edward's Inspires goes from strength to strength with our partnerships with The Duke's Secondary School and Berwick Academy continuing to thrive.
"The students and their parents get a lot of benefit from the evening, so we want to thank all of the organisations that have taken time out of their busy schedules to attend."