The third Thursday in November is consolidated in the King Edward's calendar as King Edward's Inspires. The event on 21 November was the sixth and biggest event that we have put together to benefit our students and help them and their families make informed and inspired decisions about life after King Edward's.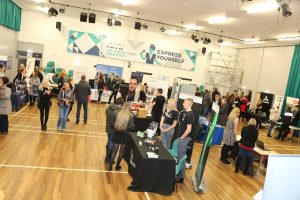 The bumper careers event comprises a mix of Higher Education and Further Education institutions, and employers who talk about the range of opportunities available in their sector including apprenticeships and work experience opportunities. The event supports the Gatsby Education framework of Good Career Guidance, covering many for the eight benchmarks.
Early feedback from students has been incredibly positive, with one Year 11 saying: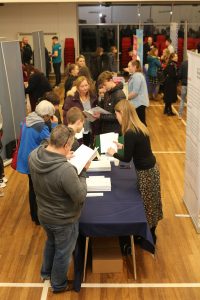 It was so good, I am sorted now – I know what I am going to do!
The event attracted 75 different delegates from a wide geographical area; from Dundee to London. Students and families got to gather information and ask questions from exhibitors with information stalls. To support the information stalls, there was a full programme of presentations from experts in their field. The event was well attended and we attracted students from Dukes Secondary School, Berwick Academy and Newcastle High School for Girls.