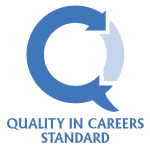 We were delighted in January to have confirmation that we have maintained our Quality in Careers Standard award, demonstrating our belief and commitment to Careers Education, Information, Advice and Guidance. With this in mind I want to share with you some resources in recognition of National Careers Week 2021. 
In more usual times, we would fill this week with activities, visiting speakers and visits to various events. This year all of our provision is remote and in the form of a directory. The National Careers Week 2021 resources can be accessed via the link and is split into five sections; activity suggestions, information on Labour Market, where to access reliable careers information, events taking place this week and finally subject careers guides. All students will receive a copy via their Form Tutor.    
There is also a National Careers Week Virtual Careers Fair running across the week. It can be accessed here. This is an excellent opportunity for students and families to explore a wide variety of options and opportunities available to young people. 
Students have already been provided with information to support National Apprenticeship Week in early February. Please follow this link for the February Parents Pack from the National Apprenticeship Service. 
Unifrog continues to be an excellent resource for supporting career research and personal development, students sign in using their 3rivers email, parents can get in touch if they would like a parent account setting up