We are incredibly frustrated that we cannot offer our young people the opportunity to participate in our well-supported King Edward's Inspires event, usually the third Thursday in November. Nevertheless, this is a time when students in Year 11 have to make important decisions about their future education and training; something that can be daunting for students and parents/ carers alike. 
Whilst we appreciate that this, in no way, replaces King Edward's Inspires, we have put together a brief information guide for students in Year 11 and their parents/carers. The guide is designed as a starting point and provides the 'need to know' information about the range of Post 16 options available. Click on the front cover to launch our guide.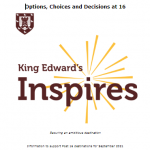 Further guidance for students is available in school in the form of assemblies and one to one access to our Careers Adviser. All students have been asked to complete their intended destination for Post 16 by the end of November on their Unifrog profile. Invitations for Post 16 interviews will be sent out in January to further support students with their transition. 
The Sixth Form team will be in touch separately about the breadth of opportunity available within the Sixth Form at King Edward's.