Saturday 19 October, in follow up to the Local Democracy Week launch of The Three Rivers Climate Change Strategy, the PTFA and associated presented a Carbon Capture talk. Two of our Year 12 Environmental team Georgia  and Jason, and Year 10 members of the Eco-gardening team, Beth, Llia and Abigail, made brilliant presentations at the Carbon Capture talk in the ASC on Saturday morning where they talked about Climate change issues and our conference.
Our guests mainly came from Hexham and they were blown away by our students speaking out so confidently about the issues. The upshot is that the guests are going back to Hexham full of enthusiasm for moving things on there too.
Our speaker, Prof. David Manning from Newcastle Uni's Soil Science Dept. is also now considering ways of helping to bring more students together from several schools to meet up at the Uni and consider climate change and how to mitigate this through carbon capture methods.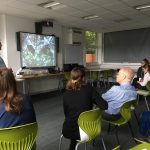 The message about turning pledges into individual and group actions to make things happen is travelling! Our first carbon capture bed with a 50/50 mix of compost and volcanic dust
capturing CO2 and changing it into calcium carbonate so it's trapped in the ground. It's spring bulb planting time.